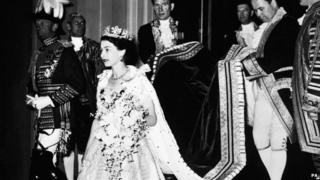 The Queen is celebrating the 60th anniversary of her coronation this Sunday.
On 2 June 1953 Queen Elizabeth II was crowned inside London's Westminster Abbey.
Millions followed the event on radio and TV - with many people in Britain buying televisions for the first time so they could watch the event at home!
As the 60th anniversary is on a Sunday, the Queen is marking the day privately at Windsor Castle.
But she'll return to Westminster Abbey for a special service on Tuesday.
Queen Elizabeth II actually became the monarch on 6 February 1952 - when her father, King George VI, died.
There is usually a gap until the coronation - to allow time for mourning the previous monarch and to give time to prepare for the big ceremony.