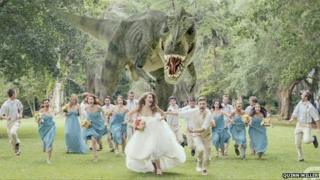 How about this for an unwanted wedding guest?
A fearsome Tyrannosaurus Rex turned up at this wedding in Louisiana, America - with the help of digital technology!
Photographer Quinn Miller took a snap of newlyweds Katie Young and James Lowder and their party guests running.
He then added on the T. Rex and the funny pic has gone viral since being posted it online.