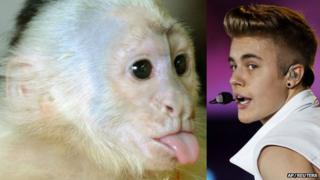 Justin Bieber's former pet monkey has been given a new home.
Mally the capuchin monkey is now living at Serengeti Park in Hodenhagen, Germany.
The animal was kept by airport officials at Munich in April because Bieber didn't have the right paperwork for his pet.
Bieber didn't claim Mally, so authorities have now sent the 23-week-old monkey to the animal park.
Park staff said the biggest challenge for Mally is settling in with his new monkey family.