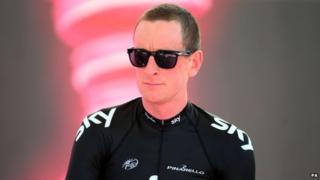 Bradley Wiggins has been ruled out of this year's Tour de France cycle race.
The defending champion has been left unable to train after suffering a chest infection and a knee injury.
Wiggins said: "It's a huge disappointment not to make the Tour. I desperately wanted be there, for the team and for all the fans along the way - but it's not going to happen."
Two weeks ago, Wiggins pulled out of the Giro d'Italia race because of illness.
He added: "I can't train the way I need to train and I'm not going to be ready. Once you accept that, it's almost a relief not having to worry about the injury and the race against time."
Wiggins became the first British winner of the Tour de France last year.
A statement from Team Sky said: "With illness, injury and treatment Brad has gone past the point where he can be ready for the Tour. It's a big loss but, given these circumstances, we won't consider him for selection."