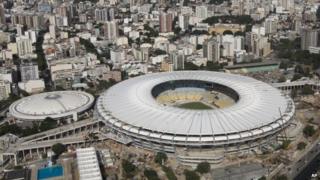 England's football friendly against Brazil is set to go ahead on Sunday, despite safety fears over the stadium in Rio de Janeiro.
A court order on Thursday suspended the game at Maracana Stadium because of concerns over rubble and building materials lying around the site.
But that decision was overturned a few hours later.
The Rio de Janeiro state government said it'd presented a report showing the venue met safety rules.
The 78,000-seat venue reopened in April after nearly three years of work updating it for the 2014 World Cup finals.
Last month a Brazilian newspaper reported uneven flooring with small gaps and holes, flooding in the VIP area, and a lift that didn't work properly.