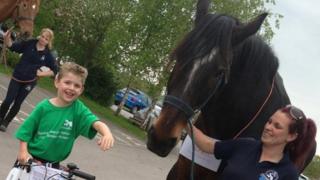 A schoolboy has cycled a whopping 35 miles to raise money for an animal rescue charity that cares for his best friend - a horse called Tom!
Alfie, aged 8, biked from Devizes in Wiltshire to Bristol earlier this month, raising £1,200 for HorseWorld.
He told Newsround: "I found it quite exciting. I was a bit hyper.
"The ride went really well. The day after my wrists were aching because I was holding onto the handlebars!"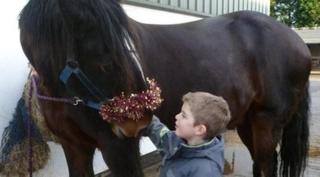 Alfie befriended Tom after seeing the shire horse pulling carts with deliveries to pubs in his local area.
But Tom had to retire after developing arthritis in his shoulders.
So Alfie went to visit him at HorseWorld - and decided to raise money to help Tom and his horse friends.
The hardest thing about the ride? Alfie said: "There were a few hills - most of them were fine, but I struggled one or two of them.
"We had to dodge a lot of people, including a triathlon. I had to use my bell lots. My thumb went all tingly!"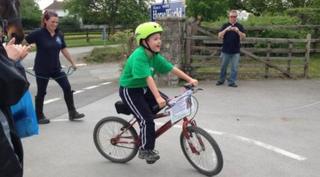 "I enjoyed the end bit the most because they had Tom in the yard. He had a sign round his neck saying, 'Well done Alfie'. We had a party afterwards with all my friends from school."
In 2011, Alfie did a shorter bike ride as well as an abseil to fundraise for Tom.
Alfie joked that he wants to do a bungee jump next, but his mum doesn't like the idea!