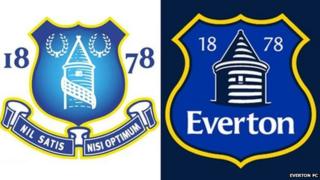 Everton football club have said sorry to their fans after thousands were unhappy with changes to the club's badge.
More than 22,000 fans have signed a petition to protest against the changes, which included removing the club's Latin motto.
Though Everton Fans' Forum - a group of representative fans - were consulted before the changes were made, Everton FC apologised for not talking to all fans.
They said: "We regret we didn't ask every Evertonian about something that matters so much to every one of you."
The club says the new design will remain in place for the 2013-14 season but they would seek fans' views over its badge for 2014-15.
Everton's badge has been changed in the past and this is the 10th version in the club's history.