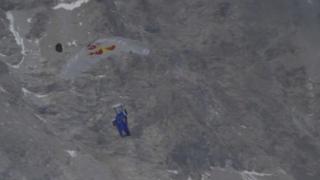 Highest base jump from Mount Everest
We normally hear about people climbing it but a Russian extreme sport star has completed the world's highest base jump by leaping off Mount Everest.
Valery Rozov made the jump from the north face of Everest at more than 7,000m high.
The stunt took more than two years to plan and marks the 60th anniversary of the first climb to the top of the world's highest mountain.
Check out the video to watch the jump.
Watch more Newsround videos