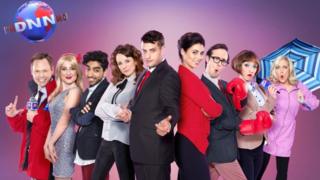 Now we know you love keeping up to date with all the latest news right here on the Newsround website, but if you fancy something a bit different, check out CBBC's new show, DNN.
It's news - but not as you know it.
Prepare to get a sideways, upside down and back to front look at what's happening each week in the world of news, sports and showbiz.
Every Thursday afternoon on CBBC, DNN's Bob Roberts and Felicity Bond will bring you the low-down on the week's high points - with help from a team of not-so-expert reporters.
So make sure you're watching CBBC on Thursdays at 5.30pm for the newest news show you've ever seen. It's new! It's news! It's DNN.