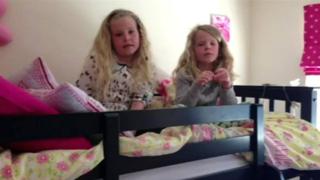 Lily and Daisy on north Wales earthquake
A small earthquake has struck in North Wales, just after 4am this morning.
The British Geological Survey has reported the quake as measuring a 3.8 in magnitude and says the centre of the tremor was in the county of Gwynedd.
No damage has been reported but some people say that buildings shook for a few seconds in the area and was felt as far as Dublin and Merseyside.
Lily and Daisy are from Manchester and were on holiday in the area - they told Newsround what the experience was like. Evie got in touch too.