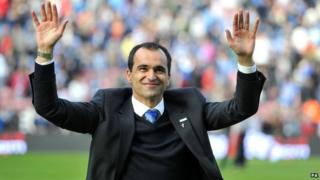 Roberto Martinez has resigned as Wigan's manager and will now meet with Everton about replacing David Moyes.
Martinez led his Wigan side to an historic FA Cup triumph this season but could not stop them being relegated from the Premier League.
Wigan's chairman Dave Whelan said Everton contacted him last Friday, asking to talk to Martinez.
"Roberto wanted permission to move so I've given that," said Whelan.
He added: "He feels he's not the man to lead us back into the Premier League. I've got to accept what he feels.
"He [Martinez] has 12 months left on his contract, so whoever comes in for him must pay the remainder of his contract."
Everton are searching for a new manager for when Moyes moves to Manchester United.