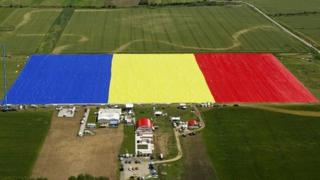 World's biggest ever flag!
A gigantic flag in Romania has broken the Guinness World Record for the biggest flag ever draped!
It's 349m long and 227m wide - that's bigger than six football pitches - and was made using 44 miles of thread.
It needed a large space to be unravelled so was taken to an airfield near Bucharest, the capital city of Romania in Europe.
Work on the enormous red, yellow and blue flag began two months ago and took hundreds of hours to complete.
Check out the video to see the flag being unravelled!