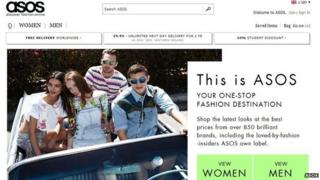 The clothes website Asos has recalled a batch of metal studded belts that were found to be radioactive.
An Asos report found that the black peplum belt could cause injury if worn for more than 500 hours.
The problem was first spotted by US customs who tested the belt, and found traces of a chemical, Cobalt-60.
The belts are now being held in special storage and Asos have recalled the 47 that were sold worldwide, although it's not known how many have been returned.
Asos said in a statement: "A product supplied to Asos did not meet UK health and safety standards. Asos worked with all relevant authorities and undertook a precautionary product recall, in line with our high standards of quality and customer care. No other Asos product lines are affected.
"Asos continues to work with the relevant regulatory authorities and is in dialogue with the supplier and the factory workers involved to ensure a satisfactory outcome."
The belts were made by a supplier in India but they've said they don't agree with the findings of the report and want to test the belts for themselves.