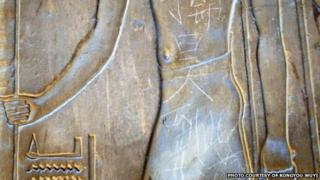 A Chinese teenager who vandalised an ancient Egyptian artwork has sparked anger in China.
A tourist visiting the temple in Luxor posted a photo of the graffiti showing the words "Ding Jinhao was here," written in Chinese.
A 15-year-old boy was then named and his details including his date of birth and school were posted online.
Chinese media say his parents have apologised to a local newspaper, saying they are sorry for his actions and he committed the act when he was younger and had realised the seriousness of his actions.
Luxor, on the bank of the Nile, is home to a large temple complex, built by Amenhotep III, who lived in the 14th Century BC, and later by Ramesses II.