Thousands of people are in Liverpool this weekend to mark the anniversary of the Battle of the Atlantic.
It's been 70 years since the end of one of the fiercest battles of World War II.
A big service took place on Sunday, attended by the Princess Royal, followed by a march to remember the thousands who lost their lives.
The battle of the Atlantic lasted for from 1939 to 1945 and took place, not on land, but in the Atlantic Ocean.
Boats left the UK to sail to America where they would collect important supplies like food, fuel and military equipment to help people in Europe survive the war.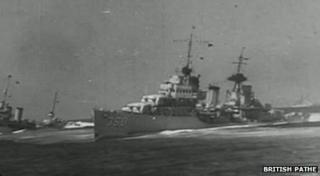 British Pathe
Lives lost
German forces would attack the boats to try and stop vital supplies from reaching the UK.
Tens of thousands of lives were lost in the battle, and around 3000 ships were sunk.
The service was part of a weekend of events commemorating the longest military campaign of the second world war.