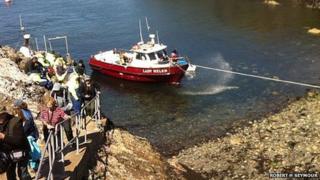 Investigators are trying to find out why a tourist boat struck rocks off the coast of South Wales on Saturday afternoon.
The boat started sinking on its way to Skromer Island in Pembrokeshire.
The island is home to a wildlife sanctuary which has colonies of thousands of sea birds. It is a popular destination with holiday makers.
Lifeboats were sent to take the Lady Helen's 48 passengers safely back to shore and it was reported that no one was injured in the rescue.