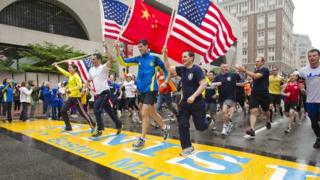 Runners have completed the final mile of Boston Marathon, five weeks after they were forced to abandon the race on 15th April.
The marathon was cut short after two bombs exploded close to the finish line, killing three people and injuring more than 180.
The new event was called "OneRun", with the slogan: "We'll get our finish."
Spokeswoman, Kathleen McGonagle, said the event honoured the victims and emergency services who helped in the aftermath of the attack.
"For the runners that didn't get the chance to finish the marathon, this is the chance for them to experience the final mile that was taken away from them," she added.
Dzhokhar Tsarnaev, the surviving suspect in the Boston Marathon bombings, has been charged by police.