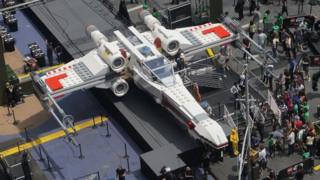 Getty Images
The world's largest Lego model has been unveiled in New York, in America... and it's a Star Wars X-wing starfighter.
It's 42 feet long with a 44-foot-wide wingspan and it took 32 builders more than a year to put together.
The giant model is made up of 5,335,200 bricks of Lego and weighs a whopping 20 tons!
It even has engines that light up and sound effects.
At the moment it is on show in Times Square in the centre of New York, but on Sunday it will move to Legoland in California.