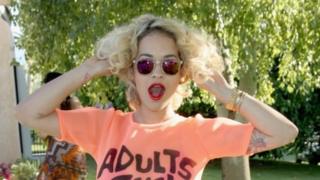 Pop singers and bands have been delayed travelling to Radio 1's Big Weekend in Ireland because of the plane delays in London.
Runways were closed at Heathrow airport this morning after a plane caught fire and had to do an emergency landing.
British Airways said the aircraft, which was travelling to Norway, had to land because of technical problems.
Onlookers said they saw smoke coming from the plane, and some people said they had seen flames.
Rita Ora
Popstar Rita Ora is among hundreds of passengers who are unable to travel, because British Airways has had to cancel all flights for several hours.
She is one of many musicians and artists who are waiting to fly to Londonderry for the festival, she said:
"It's sad when a festival doesn't go to plan. It's annoying, all I know is the acts aren't giving up so that's a good sign."
She added: "Fingers crossed... I think Radio 1 will figure it out. You can't stop a show."
Other acts that will play at the event include Olly Murs, Little Mix and Bruno Mars.