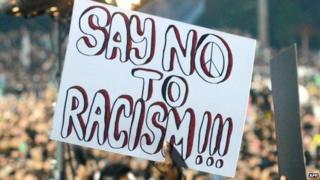 The European Football Association, UEFA, have announced punishments for players who are racist on the field.
The organisation said there will be a minimum 10 match ban for racism by players in their competitions.
Other penalties they have outlined, include a 10-15 match ban for players who assault a match official and a 2-3 match ban if players insult a match official.
UEFA also said spectators will be punished for any racist offences - this could mean partial closure of a stadium or even full closure. The club will also end up with a fine of up to 50,000 Euros.