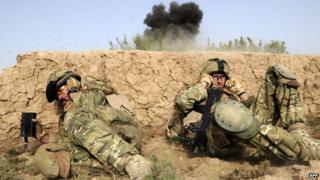 Up to 600 Afghan interpreters who worked alongside British troops, are set to be given the right to live in the UK.
The translators who are mainly from northern areas of Afghanistan have helped UK soldiers since the war against the Taleban began, in 2001. They put their lives at risk on the front-line and some even received threats to their lives.
By December 2014 the British army plans to withdraw all troops from the country.
Until now, it has been unclear whether the interpreters would be granted asylum, as the government said it was keen to encourage the Afghan workers to remain in their country to help build a safer future for its people once the war is over.
In a new announcement Prime Minister David Cameron is reported to say that the UK should not turn their backs on those who have put their lives at risk to help British troops.
The new proposals mean the Afghans who say 'they risked everything to do the job' will be given five year visas, and some of them will be allowed to bring their children and elderly relatives.
Those who wish to remain in their home country will be offered money, support and education.
A choice
The statement said: "These proposals give them a choice: The opportunity to go on working in Afghanistan, learning new skills and to go on rebuilding their country, or to come and make a new start in Britain."
Final details of the scheme are not expected until the end of May, but some campaigners worry the plans will not be enough to help all of the Afghans that helped the British army during the war.