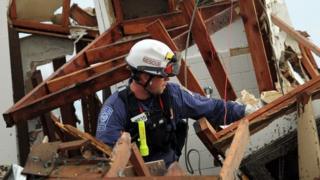 Emergency crews in Oklahoma have worked through the night and say their rescue mission is coming to an end.
Officials say 24 people died in the storm which destroyed the town of Moore on Monday, and more than 200 others were injured.
Rescue workers say they have searched every home more than once and they think all survivors have been pulled from the wreckage.
The tornado, which was part a massive patch of thunderstorms, has been upgraded to the most powerful level.
Remember it's ok to be upset by the news, and if you find this news upsetting, have a read of our article here.