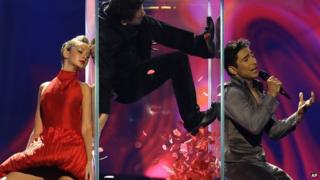 The President of Azerbaijan has ordered an investigation to find out why his country didn't give Russia any points in this year's Eurovision Song Contest.
According to officials, Azerbaijan should have given at least 10 points to Russia because lots of viewers voted for the Russian song by text message.
Ambassador Polad Bulbuloglu said that votes were being recounted.
An announcement is expected to be made on Azeri Public Television on Tuesday.
One Azerbaijani TV boss said the failure to give Russia any points was of serious concern.
"We sincerely hope that this incident, possibly initiated by certain interest groups, will not cast a shadow over the brotherly relations of the Russian and Azerbaijani peoples," said Camil Guliyev.