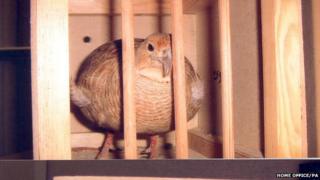 Fighting birds from South Asia have been discovered hidden in suitcases at Leeds Bradford Airport.
Police say officers found nine Grey Francolin birds, which are bred to fight, in wooden cages, inside people's luggage.
The smugglers tried to sneak the birds past customs on two different occasions.
Staff at the airport said they had not seen anything like it before.
Sam Bullimore, Border Force assistant director at Leeds Bradford Airport, said:
"Our officers are trained to expect the unexpected, but were surprised when they realised just what the passengers were smuggling."
"It is vitally important that unregulated attempts to bring livestock into the UK are stopped, to protect the health of both animals and humans and to prevent animal cruelty."