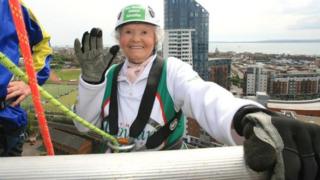 A great-great-grandmother has abseiled down a building to celebrate her 99th birthday.
Doris Long holds the world record for the oldest person to abseil.
She abseiled down an 11 storey building 35m (110ft) tall at Portsmouth University's to break her own record and raise money for charity.
Mrs Long did her first abseil aged 85 and has now done eight fundraising descents.
Mrs Long, who is also known as "Daring Doris", said she was looking forward to her birthday party on Sunday 26 May.