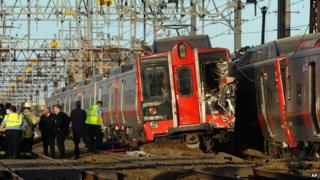 Two trains have crashed in a head-on collision near New York in America.
About 60 people have been injured, five critically, after the rush-hour crash.
Connecticut Governor Dannel Malloy said the front of one of the trains had been badly damaged and its wheels were "sticking into the other train".
Investigators are now trying to find out what caused the crash, which came shortly after 6:00pm local time on Friday evening.
Police Chief Joseph Gaudett said most of those hurt were walking wounded.
"Everybody seemed pretty calm," he said. "Everybody was thankful they didn't get seriously hurt. They were anxious to get home to their families."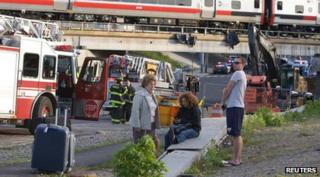 But Canadian passenger Alex Cohen told reporters that "people were screaming... they had to smash a window to get us out".
Amtrak, a train company is America, has suspended its service between New York and Boston.