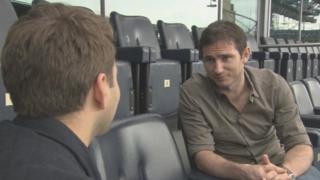 Video: Lampard wants Mourinho back
Chelsea midfielder Frank Lampard says he's sure Jose Mourinho would bring back the glory days to the Blues if he returned to the club.
Lampard, who recently signed a one-year extension with the Blues, says Mourinho is the best manager he's ever worked with.
Reports suggest the 50-year-old is on the verge of leaving Real Madrid to replace interim boss Rafael Benitez.
"If he comes back I hope he brings back some glory that we had before" Lampard said.
"From being here before with him, it was fantastic for me. The crowd love him and Chelsea fans all over the world love Jose Mourinho," he added.
Mourinho first took charge at Stamford Bridge in June 2004 having just guided Porto to Champions League glory.
He won six trophies in three years, including two Premier League titles, but left in September 2007 after his relationship with owner Roman Ambramovich had broken down.
The following year, Mourinho joined Inter Milan, where he won a second Champions League crown and two league titles in as many seasons.
He was tempted to Real Madrid in the summer of 2010 and won a La Liga title, but has had a disappointing campaign this season and looks set to leave the club.