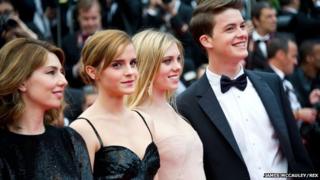 A million dollars worth of jewels - which were meant to be worn by film stars this weekend - have been stolen from a hotel in Cannes.
The jewels were to be loaned to celebrities who have arrived on the French Riviera for the famous annual film festival.
Stars like Emma Watson have been pictured on the red carpet today as French police reported the raid that took place at a nearby hotel.
The jewels worth more than one million US dollars (£650,000) are owned by a Swiss company called Chopard.
They were stolen from a safe in a hotel room where a Chopard employee was staying.
Chopard is one of the official sponsors of the festival, which opened on Wednesday.