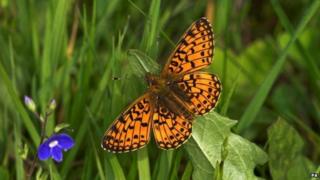 The UK's spring butterflies are arriving weeks late because of the weather.
Experts say that the second-coldest March on record is one of the reasons that many rare species have arrived in our wildlife spots and gardens.
The charity Butterfly Conservation, charts the sightings of butterflies and they say compared to an average year, the creatures are several weeks late.
One rare species - the grizzled skipper - has emerged a whole month later than last year.
Last spring butterflies were spotted emerging earlier than normal following an unusually mild February and March. But the extreme wet weather that followed resulted in a terrible year for most species.