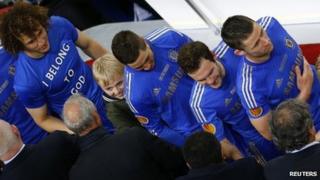 An 11-year-old boy shocked his friends and family after he was spotted on the TV with the Chelsea team as they collected their medals!
Louis Kearns, described as a 'cheeky chap' was at the match with dad, when he managed to get in with the players.
His aunt Francesca said: "I was watching the game, but I wasn't paying much attention to it. I've then seen a blonde boy walk past the screen and I said 'I'm sure that's our Louis'".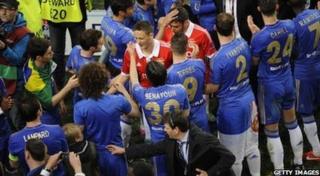 "We were just laughing about it as he seems to get himself everywhere. As Torres went up to get his medal, he was waiting behind him and we realised it was him."
Reports say Chelsea FC had no idea how he managed to get access to the team.
Ms Kearns added: "Torres is his favourite player and Rafa Benitez was his favourite Liverpool manager. He saw the opportunity to get a photograph with Torres, he saw a little opening and he got through it and ended up on the pitch, he then followed and climbed the stairs behind Torres".