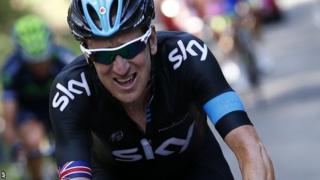 Tour de France and Olympic champion Sir Bradley Wiggins has pulled out of the Giro d'Italia because of illness.
The seven-time Olympic medallist has a cold and a chest infection, and medical advisors at Team Sky told him he should not race.
Today is the start of the 13th leg of the race which spans Italy. So far, Bradley had been lagging behind his normal times.
In a statement Team Sky said "Bradley will return to the UK today for treatment and to rest and we hope to have him back on the road as soon as possible. As a passionate racer he wanted to continue but he is simply unable to do so on medical grounds."
British cycling fans will no doubt be hoping he is fully recovered for the Tour de France which starts on 29 June.