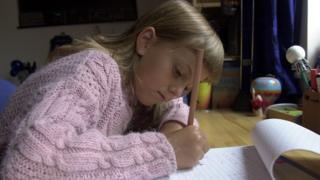 It's Friday and for thousands and thousands of you across the country that can only mean one thing - the end of Sats.
Now its time to forget about spelling tests and mental mathematics exams and relax.
So how are you celebrating the end of your Sats? Are you heading to the cinema? Chilling with friends? Maybe your mum has a special dinner planned?
Let us know how they went and what you're doing.
Your comments
"I'm going to a restaurant on Saturday and at school the whole of our year had a picnic in the local park."
Adam, Berkshire, England
"I'm so happy Sats are over, our teacher said at the beginning of the year we could lay on the tables as a joke but today we were so happy we literally did."
Lottie, Cambridgeshire, England
"We had a day at our local park and played rounders and cricket and played on the park."
Lydia, England
"All the year 6 are going Chessington World of Adventures to celebrate us working hard."
Fahid, London, England
"I will be jumping up and down making lots of noise plus asking to go lots of places."
Kenadey, England
"Me and my family are celebrating by having a big dinner at home while watching a movie."
Arafat, Luton, England
"We are all going bowling and laser quest and my family are going to Alton towers!"
Louisa, England
"At the end of our Sats we had a massive water fight and everyone ended up getting drenched."
Chloe, Coventry, England
"I'm glad that Sats are over, I got some chocolate from my teacher and I'm going to have a sleepover party with my friends."
Saffron, England
"I am going to celebrate my stats by seeing One Direction with my friends and we have all got back stage passes so we can see them.
Jess, England
"I was in hospital all week and missed them."
Rowan, London, England
"We have had a party at school that lasted 2 hours. Now I'm at home relaxing watching CBBC and playing on my computer."
Joshua, Nottingham, England
"Yes. Sats are over. WOOHOO! I'm not celebrating but my mum got me a hamster for a present. A white creamy one with long fur."
Autumn, Hertfordshire, England
"I am going have a meal and then sit down and watch Newsround."
Kiera, England
"Today at school we could bring toys in and through lessons just play with them. Also at the last lesson of school we got ice cream off the ice cream man and it was FREE. Well done everyone."
Beth, England
"We had a movie in our own clothes and had cupcakes with Sats 2013 on them. It was totally EPIC."
Skyler, England
"I am going to Chessington World Of Adventures for the end of Sats with my friends. We are also doing a Year 6 talent show! Well done to everyone who is in year 6. Can't wait for the results."
Hannah, Milton Keynes, England
"At school we are having a BBQ to celebrate the end of Sats."
Najma, London, England
"At the end of Sats week, the year sixes all watched Diary Of A Wimpy Kid Dog Days and got popcorn and juice."
Simran, Derby, England
"We had a party where we got to do anything we wanted. We're also going to the Yorkshire show and Castleford Xscape."
Aysha, Bradford, England
"When we got back to the classroom after doing our Sats we all got a chocolate bar from our teacher. My family have all said "well done", even my big sister said she is proud of me. We're going to go shopping on the weekend as a treat because I worked hard. I'm so glad it's all over."
Saya, Devon, England
"I am glad Sats week is over. It wasn't as hard as I thought though."
Jodi, England
"I haven't even started my exams, they're next week. You're all really lucky if you have finished your exams."
Ella, Cheshire, England
"Sats are over so we're not doing work at all."
Leah, Wigan, England
"I am having a Sats party right now. It is really fun and we are having a great time. We are going out on the field later because we have put up a tepee."
India, Market Harborough
"We are not having a party at the end of Sats, they said we should keep working."
Jess, England
"We are having a movie afternoon with popcorn and fizzy pop! In June we are all off to Alton Towers! Well done to all Year 6 classes across the country."
Year 6 Murdishaw West, Runcorn