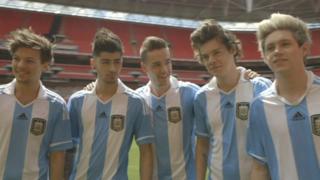 Video: One Direction's announcement vid
One Direction have announced they're set to head off on a world tour in 2014!
The group just revealed details of the mammoth Where We Are Tour at a press conference at Wembley Stadium, north London.
So far it's confirmed they're to visit the UK, Ireland and Latin America, but more countries are soon to be added to the list.
Check out this brilliant video of the lads making their announcement.
The boy band, who shot to fame on the X Factor, have become a global phenomenon and are no stranger to success.
Since their debut single in 2011 they have sold more than 30 million records and DVDs globally and topped the charts in more than 37 countries.