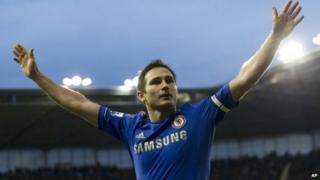 He's famous for what he does with his feet, but now Frank Lampard is trying his hand at writing children's books.
The midfielder turned author will come up with five books, called Frankie's Magic Football, for children aged five and above.
The stories will follow the adventures of a school boy, Frankie, his football-loving friends, and pet dog Max.
Newsround has an exclusive interview with the star later today, so we want your questions.
The 34-year-old will publish his first book, Frankie Versus The Pirate Pillagers, in June, followed by two more this year and another two in 2014.
"I first had the idea of Frankie and his Magic Football when reading stories to my own children," he said.
"Sport and reading are two essentials for us at home, so I decided to make up my own football stories and adventures."
Your questions
"What did you want to be when you grew up?"
Laura, London
"We think you did really well on the match on Wednesday against Benfica. We want to know, where are your books going to be published?"
Class 4C at Nelson Mandela School, Birmingham
"If you were to pick a team other than Chelsea, where would you have gone and why?
Daniel, London
"Hi Frank, today is my 10th Birthday. Can you remember what present you had for your 10th Birthday? Also did the books you read as a child influence your writing?"
Oliver, Bath
"If you were to be any character in a book, who would you be and why?"
Deanna, Kent
"What do you like about kids books?"
Sam, Darley
"Who was your childhood favourite football player?"
Louis, London
"Who inspired you to be a author and why?"
Ethan, Cheltenham
"I love you Frank and I'm so glad that you are now writing a book. I love reading and want to know, will ever write a book as to how to play football?"
Sophie, England
"How did you feel when you scored your 203rd goal?"
Ben, Berkshire
"What club did you support as a child and who was your hero?"
Arbab, Rochdale
"I love reading and I love football. My question for Frank is who inspired you to write your book?"
Mark, Glasgow
"What is your most memorable match for Chelsea?"
Fred, Southam
"How do you train to be a awesome legend? Thank you for Wednesday's final."
Fernando, London
"Frank, when will your book be out and will you stay at Chelsea until you retire?"
Henry, Bourne
"What is your best thing about the book?"
Hayden, Manchester
"At the start of the book will Frankie be good at football or will he get better as the story goes along?"
Lucy, Maidstone
"What made you want to write the books?"
Ellie, Peterborough
"I love writing books and stories, so what would your best advice be?"
Daniel, Worcester
"Are most of your books going to be based on football?"
Sukhraj, Hounslow