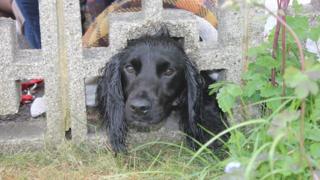 A dog had to be rescued by a firefighter after getting its head stuck in a wall.
The cocker spaniel's owner Vicky Lovelock called for help after eight-month-old Lexi put her head through a hole in the wall.
Animal rescue specialist Anton Phillips, from Hampshire Fire and Rescue Service, freed the dog using a hammer and chisel to crack the wall.
Lexi was unharmed during her ordeal, which happened on Tuesday morning.
Mr Phillips said: "I gave advice to Vicky whilst en route to keep both Vicky and Lexi safe.
"It's important in this type of incident to keep the trapped animal as quiet as possible to give it the best possible chance."
Ms Lovelock had even used baby oil to try and free the dog before calling for help.
She said she was hopeful Lexi would be fine and soon getting up to mischief again.
"Lexi is a very confident dog. As she's only eight months old, I'm sure this won't be the last time we get into trouble," she said.