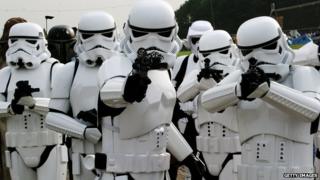 A sci-fi convention in Norwich turned to the dark side when a "long running rivalry" between Doctor Who and Star Wars fans got nasty.
Police were called to the event organised by Norwich Star Wars Club after Doctor Who fans from the rival Norwich Sci-Fi Club arrived to get autographs from two of the actors appearing at the convention.
One of Doctor Who fans, Jim Poole, said he was verbally abused and told to leave, which resulted in a tense stand-off.
The police confirmed they'd spoken to everyone involved and advised them "to keep out of each other's way."
Mr Poole said there was a history of disputes between the clubs.
He added that his club was considering having uniformed security guards at its own Norwich Sci-Fi Convention in September in case of further trouble.
The event organiser, Richard Walker, said - despite the trouble - this year's convention had been "a very successful day."