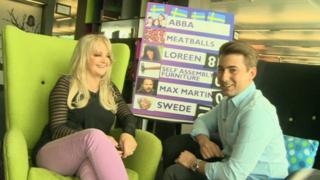 Bonnie Tyler takes our Sweden quiz
Pop star Bonnie Tyler is representing the UK at this year's Eurovision Song Contest in Sweden.
She'll perform 'Believe in Me' on Saturday, for an estimated TV audience of 120 million viewers.
The 61-year-old Welsh singer is best known for her 1983 hit 'Total Eclipse of the Heart'.
Before she jetted off to Malmo, where the contest is taking place, Newsround's Ricky put her to the test on all things Swedish!