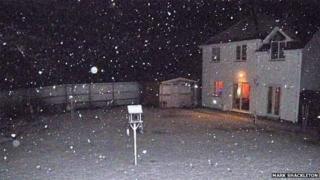 Parts of England have had a surprise sprinkling of snow in what's been described as "unusual" weather for May.
There were flurries in parts of Devon and Cornwall, with snow sticking on the ground in Dartmoor National Park.
Winds of up to 65mph also struck the south west coast of England overnight with a number of trees coming down, some blocking roads.
Western Power Distribution said homes in Cornwall were still without power after thousands were cut off overnight.
Two inches of snow also fell in Shropshire and people there have been warned to prepare for flooding.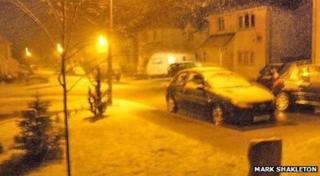 Sheila Coates, from Princetown in Devon, said: "It's crazy. When I went to bed last night I couldn't see out of my front window for the snow.
"I've lived here all my life and I've never known weather like it at this time of year."
The wintry weather is expected to ease up during Wednesday, with drier and brighter conditions across the UK.
Paul Mott, a weather forecaster at MeteoGroup, said the strong winds and snowfall had been "fairly unusual" for May.