Urgent changes need to be made to the way Accident and Emergency units are run in England - or the whole system could collapse, according to doctors.
A&E units are usually found in hospitals and are where people go for treatment in an emergency - if they've badly injured themselves, for example.
But the College of Emergency Medicine and Foundation Trust Network say the units aren't working as they should.
They've put forward ideas to the government to change things.
Some of the main problems are to do with lack of money and staff, the health service managers said.
The man in charge of England's hospitals, Health Secretary Jeremy Hunt, said he was working to sort out the issue.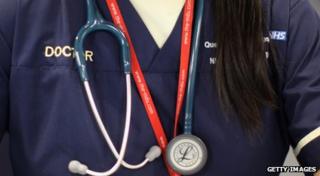 Getty Images
Rising demand
In recent weeks, lots of worries have been raised about how the health service can keep up with demand for its services.
Last week both the government and the organisation that makes sure the health service is working properly admitted the problems were worrying.
A&E attendances have risen by 50% in just ten years and this winter the NHS in England started missing its four-hour waiting time target.
Experts reckon the fact the UK's population is getting older, as well as people turning up to A&E for things that aren't really an emergency - all adds to the rising demand.
Your comments
"My brother went to A & E because he fractured his thumb and they were really quick! Must have been a slow day!"
Amina, Bradford, England
"I fractured my wrist, so I had to wait for five hours in A & E till I got a cast. Not an experience I want to repeat."
Nel, Cheshire, England
"I once went to A & E because I broke my wrist and I had to wait 3 hours until I was seen to."
Molly, London, England
"I last went to A and E about 2 years ago and as far as I remember, they were very productive. I had broken my collar bone and was sent to the children's ward were, although I had to wait half an hour, they gave me pain killers and water straight away."
Jess, Staffordshire, England
"When I broke my arm I had to wait in A & E for soooo long I nearly fell asleep."
Mya, London, England
"I once had to wait from 6pm to 3am to be seen my chin was cracked open and bleeding a lot however another time I simply got a swollen ear and waited 1 hour!"
Cate, London, England
"I once was knocked out and had to go to A & E, I was in an ambulance by myself and the paramedic was very friendly, also as soon as I got to hospital I was taken into a room straight away and seen to, although there were many other people who looked like they had been waiting a long time."
Lucy, Devon, England
"I had to go to A & E when I broke both my arms. I waited for 6 hours before I was seen and it wasn't even busy. Finally I was called in but had to wait for 3 more hours!"
Amie, Isle of Wight
"In my visits to A & E, they have made us stay go for 4 - 6 hours! But I broke my toe last week and I was there for 30 minutes!"
Jack, Milton Keynes, England
"One time I had a bad fall and I waited so long I ended up staying over night to be seen in the morning."
Amma-kay, London, England
"The first time I went to A & E was when I was 3 years old and had hit my head. I don't remember much but the cut was glued back together. I hit my head again when I was 5 and I don't remember waiting very long!"
Leila, London, England
"I went to A & E when I sprained my wrist and I was waiting from 3:38-7:41, by the time I got home it was almost 8:00."
Charlie, Harrogate, England
"I once got a fish hook in my finger. We went to one hospital but they would not do it so we had to drive for half an hour to another hospital. I was happy having it out but the wait was to long."
Alanna, Pontypool, Wales
"I've been to A & E twice and the doctors themselves were good but the amount of doctors was terrible, there was two doctors and a full waiting room and I waited for 4 hours."
Tomas, Manchester, England
"I waited four hours to have a burst blood vessel seen to. By the time I was seen by a doctor, it was so late that they told me to go away and come back tomorrow!"
Imogen, Wiltshire, England
"I once broke my arm and had to wait in A&E for 4/5 hours but I went a few months ago for the same reason and it took about 30 minutes to an hour. A big improvement!"
Zoe, Somerset, England
"I once went to A&E when I had a rash on my legs that was inflamed. I waited for HOURS crying in pain. Then at approx. 1am in the morning, I was seen."
Sukhraj, London, England
"Once, I fractured my arm and my parents took me to A&E. I had to wait for HOURS and my arm was hurting sooooo badly and I was in a lot of pain. People who had minor injuries were even getting seen before me. It was not fair!"
Shivani, London, England