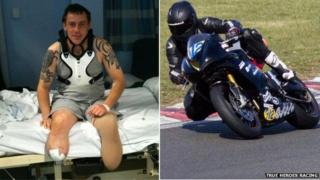 A soldier from the 2nd Royal Tank Regiment has become the first double amputee to race at the British Superbike Championships.
Even more miraculously, Murray Hambro - who's lost both his legs - had only ridden a handful of races before he entered the championship as part of a team of novices.
The 33-year old was severely injured when his tank drove over a roadside bomb while he was serving in Afghanistan three years ago.
Just four months after his operation Lance Corporal Hambro was back out on the roads on a modified motorbike - against the advice of his surgeons.
His bike has been adapted to replace all the usual foot controls with buttons and levers on the handlebars.
Soon he'd plucked up enough courage to enter a race: "My first race was very daunting," the Sussex soldier says.
"Guys were coming up to lap me and I was just pulling over and letting them through."
He soon got used to it though and raced at the British Superbike Championships last weekend - setting a Personal Best at the Brand's Hatch circuit.
Murray admits to still getting nervous before a race but says: "My job used to involve people throwing grenades at me, so I guess it makes racing less scary."