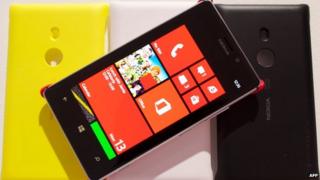 Nokia has shown off a revamped version of its flagship smartphone - the Lumia 925.
It's slimmer and lighter than the Lumia 920, which some users complained was too heavy.
The company has also upgraded the device's camera, saying this is the first time such a complex gadget has been put in a handset.
It comes a week after Nokia's way of thinking was criticised by some of the people that give money to the company.
Some investors suggested the decision to offer the Windows Phone operating system on its biggest and most expensive mobiles would mean customers turn to rival handsets, powered by Android.
However, Nokia chief executive Stephen Elop said the decision to focus on the Windows Phone software gave his firm the best opportunity to "compete with competitors like Samsung".
The company said the new model would initially go on sale in Europe and China in June, followed by the US and other markets.