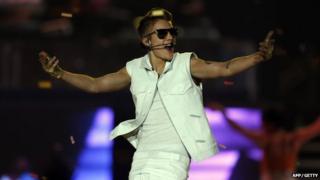 Police in South Africa say thieves have stolen takings worth hundreds of thousands of pounds after a Justin Bieber concert in Johannesburg.
It's thought the criminals chiselled away a wall to a room used to store money at Soccer City Stadium and abseiled using long ropes, to get to the cash takings from the weekend's concert.
The theft was only discovered on Monday morning. It's still unclear how much money has been taken - police estimate it could be as much as £200,000.
One of the officers investigating the robbery said the safe was state-of-the-art (meaning it's the most advanced available) and "incredibly secure".
Investigators believe it could be an inside job - meaning the thieves might be people involved with the stadium.
The concert organisers and the stadium management company are expected to offer a reward for anyone with any more information about the crime.
The 19-year old superstar hasn't yet commented on the theft - he tweeted "Great night tonight" after Sunday's performance.