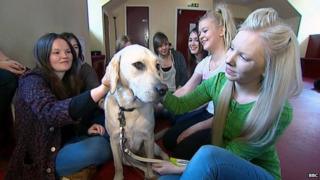 Sats and other exams can be stressful - but could playing with puppies during breaks relax you?
Aberdeen University has opened a puppy room where stressed students can calm their pre-exam nerves.
Student president, Emma Carlen, started it after it went really well at a Canadian university last year.
The dogs are provided by the Guide Dogs for the Blind Association, who say that the interaction helps prepare the pups for life as seeing-eye dogs.
It's thought that if this proves popular similar schemes could be set up in schools too.