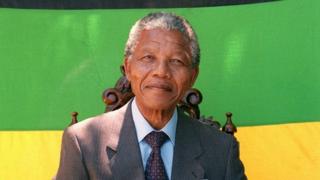 People around the world have been reacting to the news that Nelson Mandela, one of history's greatest leaders, has died after a long illness aged 95.
Mandela led South Africa out of the racist system of apartheid, and into democracy, becoming the country's first black president.
He had been receiving intensive medical care at home for a lung infection after three months in hospital.
Announcing the news on South African TV President Jacob Zuma said: "Our nation has lost its greatest son."
"Although we knew that this day would come, nothing can diminish our sense of a profound and enduring loss."
Mandela's story is an incredible journey - from prison to presidency.
After being jailed for 27 years he became South Africa's first ever black president.
He went on to play an important role in promoting peace and equality across the globe.
Global tributes
World leaders, celebrities and ordinary people have been paying their tributes to him.
Prince William, American President Barack Obama, British Prime Minister David Cameron and sports stars David Beckham and Usain Bolt are among who've said how he inspired them. See more of that by Clicking here.
Inspiring kids
School children in the UK have been giving their reaction to the news.
Kids from Walworth Academy, in London, have been in touch with the BBC's School Report.
Hawa, in year 8, said: "When I found out that Nelson Mandela passed away I was in so much shock. He was a leader, a father and a husband. He was my hero."
Danny, in year 9 , said he is "very emotional and upset. However, I am happy that his legacy will live on".
Khalil said: "He was one of the most influential people of all time. Without him many black politicians would not be in power today, like Barack Obama."
And other pupils from Whalley Range in Manchester added their voices to the tributes.
They said: "As a school we are commemorating Nelson Madela's memory through a whole school minute silence and a tribute video that our media team have created."
Aya, a year 8 student, said: "Everyone is going to remember the difference he has made - He's a true pioneer for Black peoples' rights. People like me wouldn't be here today if it wasn't for people like Mandela fighting for our rights.'
And Maryan added: "He's a true legend and he's proven if you fight for your rights, you can make a difference."
You can pay your tributes to Nelson Mandela by clicking here to go to our chat page.
Why was he so important?
Find out More about Nelson Mandela and why he is so important by clicking here.