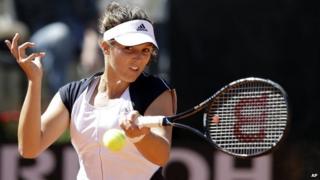 Great Britain's Laura Robson has beaten seven-time Grand Slam winner Venus Williams in the first round of the WTA event in Rome.
19-year-old Robson, who's ranked number 39 in the world, broke the American's serve six times to win 6-3 6-2.
Venus Williams is struggling with a back injury at the moment. It's meant she's only taken part in four other tournaments so far this season.
Robson will meet Venus's sister Serena, the world number one, in round two.
"I've never played her [Serena] and I have always wanted to," Robson said.
"It's going to be insanely tough but I'm just going to go out there and do my best."