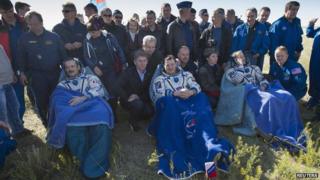 The astronaut who has become an internet hit - Chris Hadfield - has returned safely to Earth after spending five months on the International Space Station.
The Canadian landed in Kazakhstan with fellow astronauts American Tom Marshburn and Russian Roman Romanenko.
Chris Hadfield had posted messages and videos from space, showing how he goes about his day-to-day life.
Before leaving the ISS he even recorded a song!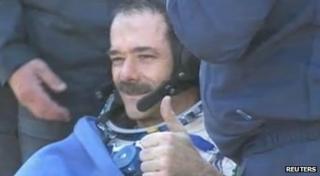 'Amazing experience'
The capsule carrying the three astronauts landed safely at 08:31am on Tuesday.
The crew were said to be in good health and will now start to re-adjust to life on Earth after 146 days in zero gravity.
Find out how space travel affects your body
"The crew are feeling well," Mission Control said. Later, they were shown smiling as they waited for medical tests.
Before leaving the ISS, Mr Hadfield said: "It's just been an extremely fulfilling and amazing experience."