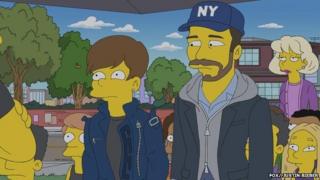 Justin Bieber appeared in hit TV show The Simpsons in America, but fans were left disappointed after his cameo lasted only 10 seconds.
The singer's manager Scooter Braun also made an appearance on the show, which has already been on TV in the US.
In the episode, called The Fabulous Faker Boy, Bart's mum encourages him to take piano lessons.
Bart isn't too interested until he meets his new piano teacher - Justin Bieber himself!
'Disappointed'
But lots of kids watching were unimpressed because the teen hero only said one line.
Even producer, Al Jean, said: "It's just a cameo. This sentence is longer than his appearance."
On Sunday, Bieber posted a screenshot from the show on his Twitter account, commenting: "haha".
It's not the first time that celebs have turned yellow to star on the hit show - Simon Cowell, Katy Perry, 50 Cent and even the cast of Glee have already featured.