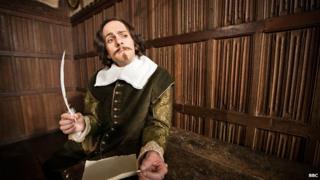 If you like your history with the foulest and funniest bits left in, get this: the people behind CBBC's Horrible Histories are making a new film, Bill.
It tells the story of how hopeless lute player Bill Shakespeare leaves his family and home to follow his dreams.
It's a tale of murderous kings, spies, lost loves, and even includes a plot to blow up the Queen, Elizabeth I.
It's the first time the six main Horrible Histories actors will appear together on the big screen.
The movie, being filmed later this year, will tell the story of how plain old Bill became the famous poet and playwright William Shakespeare - widely regarded as the greatest writer in the English language.
The people behind the film say they think the Bard would like the comedy "...apart from the bit where he's dressed as a tomato." Can't imagine why!