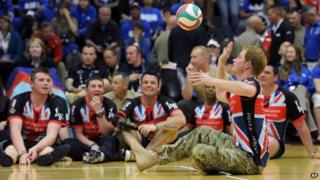 Prince Harry says he hopes to bring America's Warrior Games for injured servicemen and women to the UK.
He attended the opening ceremony for this year's competition, as part of his US tour, and took part in a game of sitting volleyball.
Almost 300 injured servicemen and women from the UK and US are competing in this year's games.
Prince Harry said he believed ex-military athletes competing against each other would attract huge crowds.
Next week, he'll travel to New Jersey to visit communities affected by hurricane Sandy.