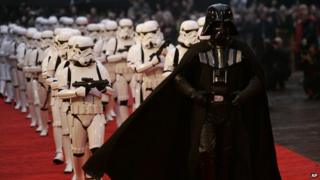 Good news for movie fans now, and the next Star Wars movie will be made right here in the UK.
Disney has signed up to make three brand new films over the next few years.
The first one will go into production next year in locations across the country.
The seventh film is set to be released in 2015.
Filming on previous Star Wars also took place in Britain at studios including Elstree, Shepperton and Leavesden.
Coming home
Warwick Davis, who played an Ewok in 1983's Return of the Jedi, said the announcement was great for the British film industry, and for British actors. He said:
"I think that it's Star Wars coming back to its roots, it's where it started all those years ago in 1976."
"It's really where Star Wars was kind of born I suppose, and it's nice that it's coming back."